Certified Security System Installer
Certified Security System Installer, MW Global Security are pleased to announce that we have achieved Gold Certification for the installation of Tyco Visonic Security Systems and Intruder Alarm products.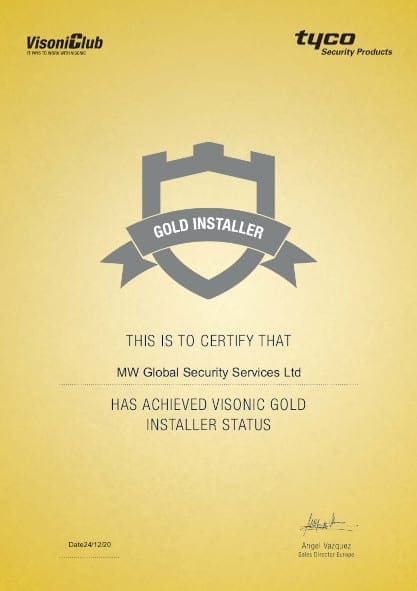 Gold Certified Security System Installer
Allows us to further our customer confidence and showing that we aim to provide 100% customer satisfaction 100% of the time.
For MW Global Security and our customers nothing else will do!
That is why we offer outstanding service by providing!
Free Security Check up.
Free Security quotes.
New Intruder Alarm installations.
Faster Cleaner Alarm Installations.
Free 24 hour telephone support.
Free 1st annual service ( on new alarm system installations excluding parts).
Loyalty Scheme (Refer a friend or family member to receive 25% cash back on your installation fee T&Cs apply).
We offer late appointments to work around your work and life commitments.

We are a certified installer of Tyco Visonic security products.
Intruder Alarm Installations and Service Maintenance and Repairs
On all brands of Security Systems.
CCTV systems.

24 hour Emergency service or book at your convenience.

Covid 19 safety Policy!
To ensure yours and our Certified Security System Installers safety PPE is worn during our visit.
Our Certified Security System Installers will check their temperature prior to entering your premises.
They also sanitize using a 24-hour hand and body sanitizer.
As well as cleaning down all equipment and touch points we have used.
with a safe surface sanitizer that lasts up to 30 days even after your regular cleaning regime.
Your safety and security is our business and our number one concern.
Refer a friend or family member to receive 25% cash back on your installation fee. We also offer a monitoring and alarm response service to enhance your security.
Certified Security System Installer
For more info about our Certified Security System Installer services or to book an appointment please call at your convenience or contact us via the form on our the contact us page.
We offer a full range of temporary security services including CCTV, Alarms, and CCTV Towers that you can have alongside a monitoring and guarding service.