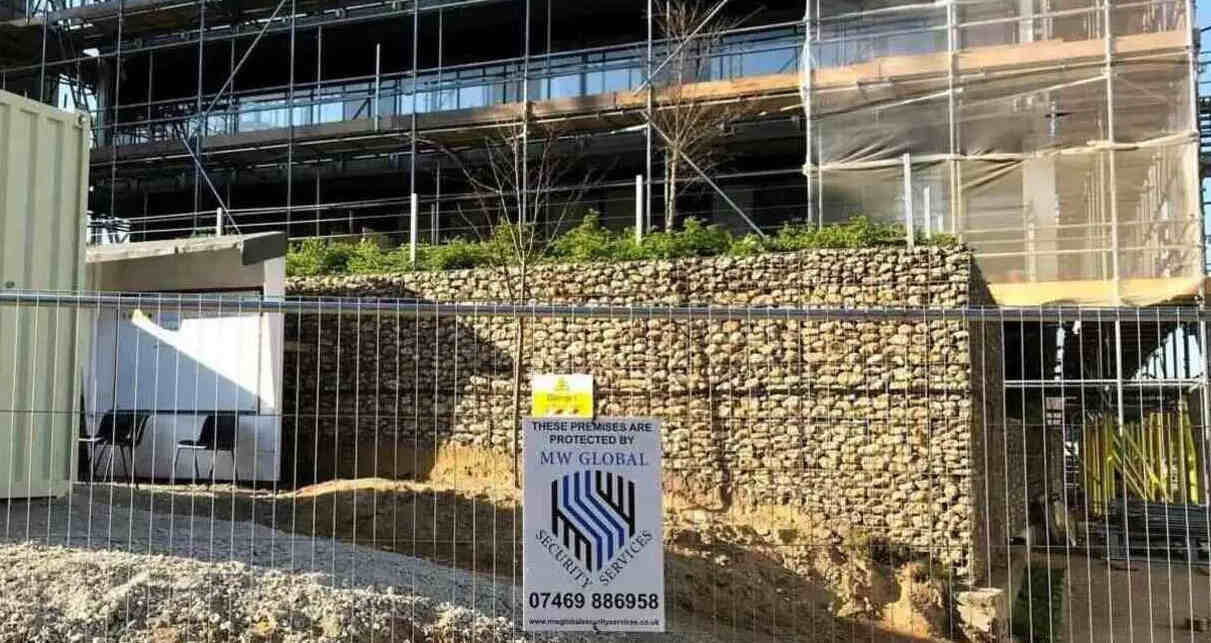 Construction Site Security Services
Construction site security services Temporary Site Guards, Mobile CCTV Towers, Wireless Alarms, & Intruder Detection.
For Construction site security services Please Call- 07469886958
Construction Site Security Services:
Protecting Your Construction Sites with Guards and Technology-Based Solutions.
MW Global Security Services understands the importance of protecting construction sites from theft and vandalism. We offer a comprehensive range of guarding services and technology-based solutions.
Safeguard your site and ensure that your project is completed on time and within budget.
The Need for Security
Construction sites are vulnerable to theft and vandalism, making it crucial to have proper security measures in place. Construction sites typically contain expensive equipment, tools, and materials. That can be sold on the black market for high profit making construction sites an attractive target for criminals.

Construction sites are usually unoccupied during non-working hours, making them vulnerable to theft and vandalism. This can result in costly delays, lost productivity, and increased insurance premiums.

To prevent these types of incidents, it's crucial to have proper construction site security measures in place. This includes a combination of physical security, such as guards and fencing, and technology-based solutions, such as cameras and access control systems.
Physical Security Measures
At MW Global Security Services, we provide a range of physical security measures. Our services include:
Fencing and Signage: We can install a fence around the perimeter of your construction site to prevent unauthorized access. Signage could be used to warn intruders of the presence of security measures and the consequences of trespassing.

Security Guards: Highly trained professionals who can patrol your construction site. They check the identification of visitors and employees, and report any suspicious activity.

Access Control: Access control systems, such as gates and turnstiles, to limit access to your site. This include the use of biometric identification or access cards to ensure only authorized personnel are allowed on site.
Protecting Your Construction Sites with Technology and Monitored Guarding Services.
We use our experience and expertise to provide the security solution you need, within budget, and without compromise.
Technology-Based Construction Site Security Solutions
Technology-based solutions are becoming increasingly popular in construction site security. We provide a range of technology-based solutions. That are designed to enhance the physical security of any site.

Temporary Security Solutions:
CCTV Towers: CCTV towers are a cost-effective way to monitor your construction site security 24/7. Our towers can be installed anywhere and provide monitored high-quality live video footage of the site. They can be used to deter criminal activity, record incidents, and provide evidence in the event of any incident.
Wireless Alarm Systems: Our wireless alarms are a cost-effective way to protect your construction site. They can be installed quickly and easily and are highly customizable.

• Motion Sensors: detect movement within a specific area and can trigger an alarm if any unauthorized activity is detected. They can be used to detect both people and vehicles, making them ideal for protecting construction sites.
• Door Sensors: They are designed to detect the opening and closing of doors. These are used to protect construction site offices, tool sheds, and storage areas.
• Glass Break Sensors: Designed to detect the sound of breaking glass. They are ideal for protecting construction site offices windows, which are often targeted by thieves and vandals.

• Vibration Sensors:
These sensors can detect the vibrations caused by drilling, sawing, or other types of intrusive activity. They will trigger an alarm if any unauthorized activity is detected.

MW Global Security, offer a range of customizable security solutions to meet the specific needs of your construction site. Our team of security experts can conduct a comprehensive risk assessment of your site. Providing you with a customized security plan that includes both physical security measures and technology-based solutions.
Monitoring & Surveillance.
MW Global Security work 24 hours a day, 7 days a week, 365 days a year to make sure your construction sites, and assets are safe.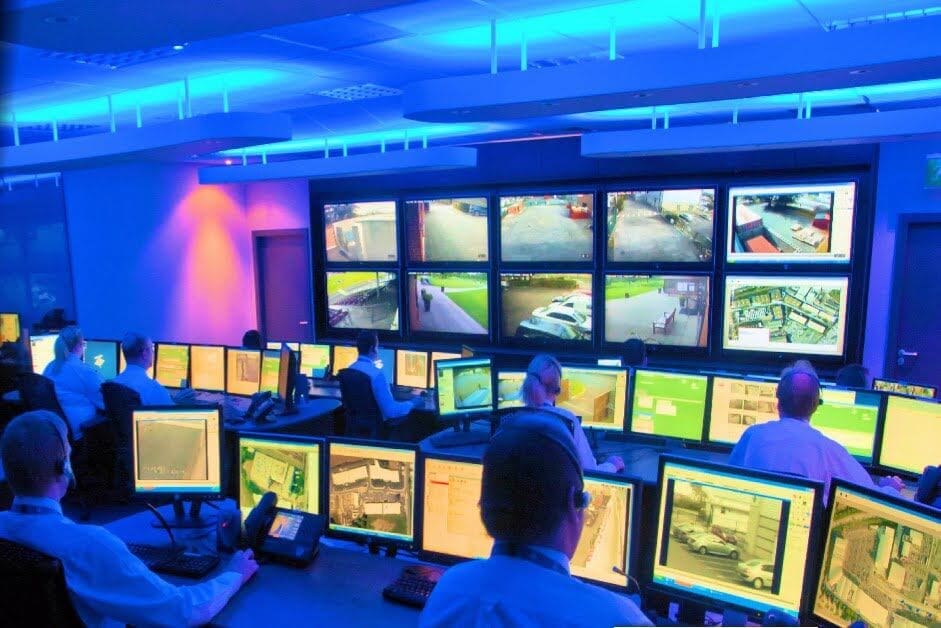 24/7 Monitored Construction Site Security Solutions
GET IN TOUCH
Schedule a Site Visit
With two decades of experience in construction site security, we provide all the temporary security services and solutions needed for any type of project, where and whenever you need them.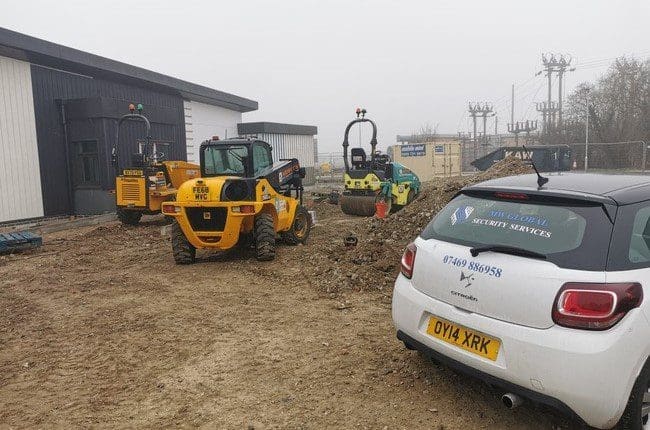 Thieves aim to make quick money and regularly target construction sites.
Costly assets, fuel, plant, machinery, and contractor tools, are regularly stolen.
Which has the potential to cause costly and unnecessary delays to any project.

MW Global offers security protection to construction sites and many other businesses.
Supported by years of experience we can secure your sites across the East Anglia region, Cambridgeshire, Essex, Norfolk, Suffolk.
Multiple Security Threats At Construction Sites
Construction sites are at risk of multiple threats, of which security should be considered by the construction company.
Threats Due To Site Design
Threats at construction sites vary according to the site's type and design.
Varying Security Risks Due To Location
Construction sites will have varying security concerns and threats based on their locality.
Most Common Threats at Construction Sites
Fuel theft
Materials Theft
Vandalism Malicious Damage
Arson
Forced access into buildings
Theft from contractor vehicles
Intruders attempting to end life
Protesters (related to the site's activity and other environmental issues or simply to gain publicity).
Construction sites are attractive adventure playgrounds for young people and thrill seekers.
Who are not always aware of the dangers that a construction site brings.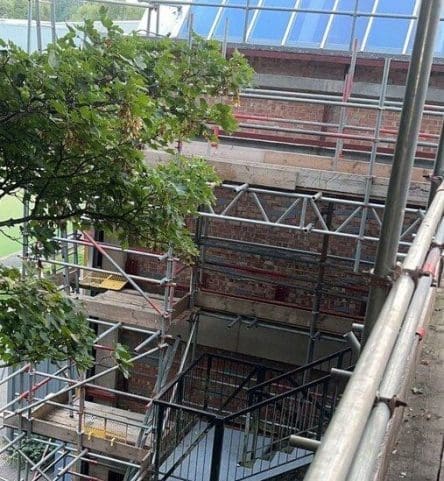 Trespass, Theft, and vandalism are the most common threats to construction sites.
By completing a site-specific risk analysis.
We can provide a robust security solution for your site that considers all localised challenges.
Our mission is to provide an outstanding security service ensuring your projects are completed on time and without disruption.
We can secure your property day and night
---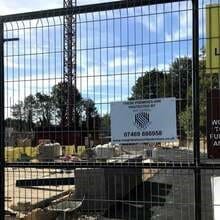 Providing pliancy as your needs dictate.
---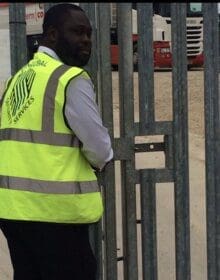 Take security to the next level.
---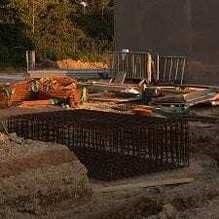 Security Guarding Services in an emergency or for short and long-term temporary projects.
Construction Site Security Benefitting From Our Technology
With our in-house developed guard app and using associated technologies.
We place discreet physical security checkpoints around the construction site.
That our guards will scan using a mobile device.
Whilst patrolling at agreed intervals as part of their duties.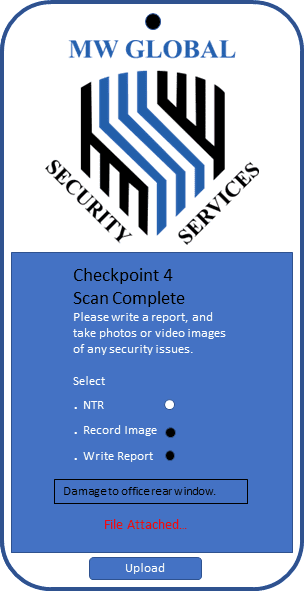 By using technology MW Global Security ensures there is a continued communication between our guards and 24-hour control.
Providing up-to-date information on the status of your construction site security.
We will discreetly position NFC (near-field Communication) checkpoints at sensitive locations around construction your site.
That our guards will periodically scan using a handheld device throughout their working day.
This ensures the entire construction site is protected and thoroughly patrolled.
Allowing us to monitor our guard's activities live.

Your Construction site is monitored and protected at all times.
100% Transparency for Our Clients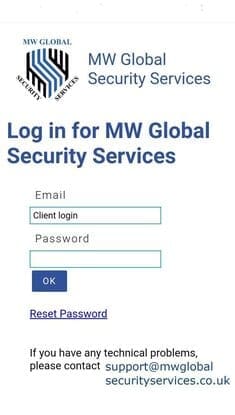 Our clients can access in real-time the security guard's GPRS location, activities, and security reports.
Providing you with the latest information about the status of your security.
Allowing you to make informative decisions and changes to the security plan.
Supported by the latest information, this provides a complete picture of the status of your construction site security.
This means you can increase or decrease your cover at the right time.
Allowing you to monitor and streamline your budget.
Without the risk of compromising the level of protection whilst maximising your profit margin.
Our mission is to provide an outstanding Security Service
to the construction industry.
Construction site security guards
Will manage your personnel and site visitors.
They can prepare your offices for meetings and safety inductions.
Security guards will check all visitor ID, s arriving at your construction site.
Checking and recording visitor details pedestrians and vehicles.
Ensuring that only authorised persons enter your site.
They can even manage materials and equipment deliveries.
Construction Site Security Services a small cost to pay
Crime at UK construction sites is estimated to exceed £800 million each year.
We work closely with your agents and
Work within your health and safety policies and procedures.
To ensure our security guard service seamlessly interacts with your construction sites daily operations.
We will visit your construction site and carry out a detailed survey and risk analysis.

This way, we get a comprehensive understanding of any security related threats and risks at your project.
We will plan and implement a customised security strategy.
That will suit your individual needs.

Ensuring you receive the highest level of protection.
Security Guard Service
MW Global Security Services only supply
Professional experienced SIA licensed security guards.
That have knowledge and experience within the construction site security services sector.
Our guards will be based at your site day or night wearing branded uniforms and relevant PPE.

Completing timed patrols and keeping detailed reports of any concerns or issues.
That could delay your project.
CCTV towers have become increasingly popular in recent years to enhance security and surveillance on construction sites.
Our CCTV towers come equipped with a variety of advanced technologies based on your specific security requirements.
Temporary Security Services That Save You Money Without Compromising On The Level Of Security Protection Your Construction Site Receive.
If your in need of a permanent or temporary security solution.
Presence of a security officer intruder alarm or CCTV system.
We have a cost-effective Security solution that suits your needs.
CCTV Security
Monitor your site for 24 hours.
Our CCTV is a logical choice for construction sites and many other large spaces.
Where a security guard is not an affordable option.
If you require more information on our CCTV please do not hesitate to contact us.
We can show you a working demonstration in real-time.
How efficient and cost-effective our CCTV is.
This helps in the provision of evidence in the event of any criminal activity.
Security Guards Protecting Construction Sites
To ensure that you have complete peace of mind.
Using GPRS Location Services Security patrols are accurately recorded.
All of our guards are provided with the correct PPE ensuring health & safety compliance.
Professional construction site security services across these areas.
Cambridgeshire
Cambridge
Ely
Peterborough

Suffolk
Bury St Edmunds
Ipswich
Lowestoft
Stowmarket

Norfolk
Norwich
Great Yarmouth
Essex
Colchester
and across East Anglia.

We prioritise your business needs for a free no-obligation quote please call +44 (0) 7469886958 or complete the form below and one of our team will promptly call you.
Construction site security services in an emergency or for short and long-term projects as your needs dictate.
For reviews please visit our Google Review Page.
We can provide temporary wireless alarm systems for your sites offices and welfare facilities.
With many options for internal and external sensors that offer protection throughout your site.
Alarm Installations and Servicing
We can provide complete alarm installations and repair & maintenance services.
Security systems that are perfect for temporary security measures with many options available for wireless external sensors.
Latest innovations in wireless alarms.
Ideal for temporary and permanent installation for homes and businesses.
Wireless security systems installed at your premises permanently or as a temporary security measure at your site.
With an array of wireless external sensors and sounders.
If supported with a monitoring and response service.
A cost effective alternative to permanent guarding
We can provide a complete monitoring and response service.
Intruder Alarm Systems with the latest unrivalled security technology.

Installed alarm systems are available in several specifications for many applications.
We understand that protecting homes and businesses from intrusion and major safety threats is a primary concern.
Intruder Alarm repairs maintenance servicing is vital in ensuring your alarm system is operational and reliable at all times.
Alarm systems contain many electronic components.
When neglected and not maintained, or serviced can develop faults over time for several reasons.
Keep Your Intruder Alarm Operational At All Times
An alarm system that has not had regular maintenance.
Will lead to repeated false alarms, preventing you from receiving notifications.
Power Plants & Renewable Energy Sites
Renewable Energy Site Security Services MW Global Security Services.
Recognise and understand that supplying energy efficiently and without interruption to the supply is critical to the UK's economy.

Security guard services delivered within strict compliance.
Where safety and security are key points within this challenging and often high profile environment.
Monday

Open 24 hours

Tuesday

Open 24 hours

Wednesday

Open 24 hours

Thursday

Open 24 hours

Friday

Open 24 hours

Saturday

Open 24 hours

Open now
Sunday

Open 24 hours